SHIPPING
Please allow 10 working days for us to make your order!
Yup, you read that right… We're a team of just three (including Officer Otter) so please be patient whilst we work through your orders.
Item's marked "in stock" still need to be sized to order and are not "off the shelf" so to speak. IF you need your order in an emergency (we all drop the ball sometimes!) then please contact us before you order and we will try our best to save your ass)
⚓ UK EXPRESS is £8 and takes 24 hours once we have completed your order. This service is sent via Royal Mail SPECIAL DELIVERY, is fully trackable and insured up to £750 as standard, and guaranteed to be with you the day after we ship (exceptions apply to some addresses). You will need to be present to sign for your package upon delivery, if you're not at home they will usually take it to your nearest depot for collection or redelivery (Please note that although the postal service takes just 24 hours, we still need up to 10 working days to create your order!) You'll receive an Order Complete email, from which point your 24 hour delivery period begins.
⚓ WORLDWIDE EXPRESS SHIPPING is £12 and sent via Royal Mail International Tracked (& Signed for, where possible- This is at our discretion- we'll always use the safest method possible to get you your new piece asap!)
Please note that dependant on the country we are sending to you may be required to pay customs or duty prior to receiving your order.
If you require a different shipping method, please contact us BEFORE you order, to discuss the best way for us to get your order to you. 
Disclaimer: Bloody Mary Metal is not responsible for items lost or delayed by couriers or postal companies, where the correct postage has been applied by Bloody Mary Metal. If an item is marked as "delivered" and/or "signed for" by the postal company then Bloody Mary Metal has no further responsibility for the items, and no claim can be raised. If you are unsure of the reliability of your local postal service, and would prefer an alternative postage option, you must email us BEFORE placing your order, so that we can offer you alternatives, at the customer's cost.
TIMESCALES
⚓ SILVER – Please allow us 10 working days to make your order. Though we are often much quicker than this please still bear in mind that we're a small team of just three (including Officer Otter) and all rings are sized to order, by our own battered hands.
⚓ GOLD – if it's in stock on the website it will be with you within 10 working days, as above. If it's out of stock, please email us! We can cast anything to order which usually takes around 6 weeks to be completed.
⚓ Occasionally we can work our magic quicker so if you've dropped the ball and forgotten an important birthday, or dare we say it, anniversary, then send us your most grovelling email BEFORE YOU ORDER and we will let you know if we can save your ass or not.
⚓ SALE PERIODS: As you may have realised, we don't do sales. What we do instead is one-off collections, aptly called The Curiosity Lab! Our Curiosity Lab pieces are created with materials and stones we have remaining around the workshop, we like to use everything we can and let our imaginations run wild (you'll get first hand insight into Ceri's imagination, you've been warned…) Our lead times for The Curiosity Lab pieces tend to be shorter than 10 working days due to most pieces being already made and available in one size only.
⚓ LIMITED EDITIONS: Every now and then we release limited edition pieces, usually based on our classics with fancy as f*** stones. You guys usually go absolutely bonkers for these, so if you could kindly allow a little extra time for these to get to you, that would take the pressure off us a bit. Stone setting takes time & patience and even wears Christine a little thin.
RING SIZE
⚓ BMM uses the standard British Ring Sizing Scale- alphabetical.
⚓ If you require a half size (e.g., P1/2) please order the size smaller (e.g., P) and add a note at checkout asking for the half size (e.g., P1/2).
A tip from team BMM- it might be worth going half a size/ or even a whole size bigger if you're purchasing a stack of 3 rings- the more skin the rings cover the tighter it can feel!
⚓ If you know your ring size in another scale (e.g., US numbers) please convert that size to a UK Letter size. We simply don't have time to convert these sizes for you. We have a handy conversion chart on the Ring Size Chart page, or use a search engine online if the scale you know is not listed!
⚓ If you don't know your ring size the best way to get an accurate size is usually by visiting a jeweller and getting them to size your finger.
⚓ If you prefer, we have Plastic Ring Sizers available for £3 with free postage (within the UK) so if in doubt, grab one of these to avoid having to pay for a re-size. (Please note: Ensure the sizer fits your finger as you would want the ring to fit, e.g. you must be able to remove the sizer over your knuckle! This is not a 100% accurate way to gain your ring size and we cannot take responsibility for inaccurate sizings taken using these Ring Sizers).
⚓ BMM offers a ring re-sizing service. We charge a minimal fee of £15 per ring (£20 for rings with stones). This covers safe postage back to you, time and materials.  FYI ALL rings by BMM are sized to order and are therefore classed as a personalized item. This means that the re-sizing cost falls with the customer.
⚓ We've tried to make the re-size process as simple as possible so you can get your perfect ring with ease! If you do require a resize please go to the search bar on the site, type in "ring resize" and follow the instructions from there.
We advise you send your rings to us via AT LEAST recorded, if not Special Delivery as BMM cannot accept responsibility for items lost or damaged in the post unless trackable. There's nothing worse than losing something so personal so don't let it happen- get it tracked! (If sending from outside of the UK please mark your package as a RETURN so that BMM does not incur a Customs fee. BMM will refuse items with fees attached, so remember to mark your packages correctly!)
RING SIZE CHART
⚓ If you know your ring size in another scale (e.g., US numbers) please convert that size to a UK Letter size using our handy guide here.
⚓ BMM accepts no responsibility for incorrectly converted sizes and please be aware that we can't account for how other brands size their jewellery. The best way to determine your size is still to get sized by a jeweller (Preferably us, here in Cornwall, if you fancy a holiday!)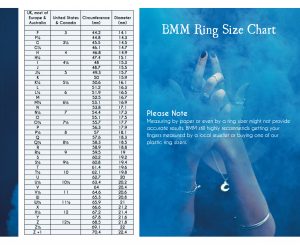 PAYMENT
⚓ All prices on our site are in GBP (£). Checkout prices are also in £. Please use your own converter for the current exchange rates as we can't respond to emails asking about currency conversions.  (We use http://www.xe.com/ for all our currency conversion needs, check it out if you're stuck)
⚓ We accept PAYPAL, and most credit and debit cards. You can also pay using your normal card via Paypal even if you don't have a PayPal account. We also accept our very own method of payment- BMM Gift Vouchers.
⚓ Will you have to pay customs charges from outside the UK? Potentially yes! All international customers are responsible for their own customs rates within their own country. BMM will NOT mark as a gift (This is illegal, so please don't ask us to do so). Contact your local customs office for advice on charges.
PLEASE NOTE:
Bloody Mary Metal is not liable for and will not replace or pay compensation for loss of or damage to items we send if:
the item is seized by Customs or any other government agency.
the item is sent to a country where no postal or courier service exists
the loss or damage is the result of an event beyond our reasonable control.
the loss or damage occurs after delivery.
we are informed by the courier or postal service that your item HAS been delivered
the item was authorised by the customer to be sent without tracking or without insurance.
GENERAL
⚓ You cannot make changes to your order once you've placed it. If you've made an address error please call us on 07562 278464 immediately, or email marking the subject with URGENT + your ORDER NUMBER (if outside of working hours)
⚓ It is also not possible to cancel your order once you've placed it, as we've likely already begun work on your order!
⚓ Please allow 2 working days after your "Order Shipped" email before contacting us regarding its whereabouts. We can then track it for you if needed. Please allow 14 days for international orders.
⚓ All of our items are made using solid 925 Sterling Silver. (Unless stated as being made of gold, of course!)
⚓ We do NOT plate ANYTHING. Nothing but the real deal when it comes to BMM.
⚓ Sterling silver (hallmarked 925 only when the item is over 7g in weight) is 92.5% silver and 7.5% copper. There is no nickel in silver.
⚓ As with all of our  stones, they can be delicate so please take care with them, avoid contact with chlorine, chemicals and soaps etc, and remove before hand washing to help the stone remain sparkly and in good condition.
⚓ Getting a green or black mark from your jewellery? Don't panic- we haven't stiffed you with cheap metal alternatives! This "green finger effect" happens to about 2-3% of people and this percentage is growing due to the increasing amounts of chemicals in our environment and the food we eat. These reactions can be occasional and can even be triggered by eating something that has high acidity like tomatoes. It can also be triggered by certain medications or due to excitement and adrenalin. Who knew?!
⚓ A green mark on the finger can also be a reaction between the ring and another substance on your hand, such as a lotion/cleaning product.
Acids in cleaning products/soaps cause the silver to oxidize which produces tarnish. This tarnish then leaves a dark or green ring on your finger. Even sterling silver and 9carat gold jewelry can produce a discoloration.
⚓ You'll greatly reduce the chance of any ring turning your finger green if you take care to keep soap, lotions and other chemicals away from it. You should also remove your rings before bathing or swimming- especially in saltwater or chlorine.
⚓ Silver generally tends to react differently with each individual's body chemistry. Some people find that the silver itself turns black when it touches their skin. Others will find it's their skin that turns black where it touches the silver. This happens with rings on the reg and to add to the confusion it can vary from ring to ring!
The important point we're making is that it isn't a sign of inferior metal- it's just basic chemistry between you and the metal. The best thing to do in this situation is keep your jewellery and your skin as clean as possible.
⚓ SILVER IN POOLS AND HOT TUBS?? JUST DON'T DO IT!
Chemicals in pools and hot tubs often react with silver and can potentially do more than just tarnish the jewelry- they can literally turn it black. This usually can't be removed by hand and would need to be professionally restored. Aint nobody got time for that! Play it safe and take it off.
⚓ HERE'S AN EASY WAY TO REMOVE TARNISH FROM STERLING SILVER IN YOUR OWN HOME- STRAIGHT FROM THE MOUTHS OF BMM
This is a great, fast and super easy way to clean up tarnished jewellery. Be very careful to watch the jewellery though- it changes quickly! Please check with us if you're thinking of trying this method but your jewellery has a stone in it, some stones don't react well to changes in heat.
1)Get a glass baking dish and cover the bottom with tin foil.
2) Pour steaming hot water (about an inch or however high you need to cover the jewellery) into the dish.
3) Add about a 1 tbsp. of salt and 1tbsp bicarb soda to the mixture.
4) Drop the silver pieces into the dish. Make sure they are touching the foil and not touching each other.
5) The tarnish will begin to disappear instantly (Heavily tarnished items might require a few extra minutes). Watch the pieces, and when they look clean you can take them out. Rinse them off with water and dry thoroughly.
⚓ Another solution is to simply clean the ring every day with a silver polishing cloth. After about a week or two, the reaction will stop occurring.
RETURNS
⚓ All returns are dealt with on a case-by-case basis. Any refunds/ exchanges offered are at the discretion of Bloody Mary Metal Ltd.
⚓ In accordance with the Consumer Rights Act 2016, if you are not 100% happy with your purchase, please notify us of the issue via email or by using the Contact Page within 14 days of receiving your item and someone will get back to you to organise your exchange/refund (where applicable).
⚓ Please note that custom orders, including all rings sized specifically to order are non exchangeable nor refundable unless deemed faulty by BMM. If work has already started, a fee may be incurred.
⚓ If you have received a faulty item, or a fault appears with the item within 6 months of your purchase date, please contact us and we will arrange a replacement or repair for you. Please note that BMM will have the final say on whether the item is faulty, and items damaged through neglect, force, or mis-use will not be repaired or replaced by BMM, and the cost will fall with the customer.
⚓ Please DO NOT just send an item back without contacting BMM first. Please also note that ALL REFUNDS will be sent via our website through the original payment method; Paypal, our payment gateway. We CANNOT pay into bank accounts or similar- all refunds must go through the original method used.
⚓ We want you to be happy with your BMM purchase and will work with you, where reasonable, to ensure that you are. Only items returned in original, unworn, saleable condition, within the 14 day period, may be considered for refunds/exchanges.
⚓ Custom/ Personalised items CANNOT be refunded or exchanged unless deemed faulty by BMM.
⚓ Rings are classed as Custom items and therefore CANNOT be refunded or exchanged unless deemed faulty or damaged by Bloody Mary Metal. This includes personalised BMM Stack rings and ALL rings sized to order.
⚓ It is the responsibility of the customer to provide their correct ring size as per the standard UK ring sizing scale (as stated on the Ring Sizings page). BMM will then supply rings to fit as requested. If a ring does not fit, the cost of resizing falls with the customer (Ring re-sizing costs start at £15 per ring which covers time, materials and insured postage back to you- please see Ring Sizing Information for further info).
JUST TO REITERATE, ALL RINGS ARE NON-EXCHANGEABLE. We don't keep stock of all ring sizes- every ring is individually handcrafted to fit it's owner. Due to the time-consuming and personalized nature of this process rings simply cannot be exchanged or refunded, unless deemed faulty by BMM. Fear not though- we do offer a re-size service. If you require this service check out the Ring Sizing Information page for more details.
⚓ Postage costs fall with the customer for returns/ exchanges, unless Bloody Mary Metal deems the product to be faulty or damaged. Please package any returns sufficiently and send with tracking, as items lost/damaged in transit due to inadequate packaging by you will not be considered for refunds/exchanges.
⚓ IF RETURNING ITEMS FROM OUTSIDE OF THE UK (for return/ exchange or resize) you MUST make sure you mark the package as a RETURNED ITEM otherwise we may incur a Customs/Import fee. BMM will refuse any items that need fees paying on them, and you may then get charged to have it returned to sender.
⚓ ALL SALE ITEMS ARE NON RETURNABLE/ EXHANGEABLE/ REFUNDABLE. SALE IS FINAL. This includes any items bought with a discount/sales voucher.
WHOLESALE
⚓ If you would like to become a BMM stockist please email [email protected]
Please include the following details:
Store Name
Store Address
Website
Contact Person
Contact email
Store Concept
Target Demographic
Years in Business
Other brands Carried
Photos (low res Jpgs) of your store.
Ts + Cs
PRODUCT DISCLAIMER

BMM attempts to show all of our products as accurately as possible. Please bear in mind that items are handmade, therefore they may come with minor flaws or variations in natural materials like stones, beads or silver. Please take this into consideration prior to purchasing.
Items incorporating stones in their design may differ from photos shown, and other items of the same style, due to differences in the natural stones we use.
Although we make every effort to keep sufficient stock of items listed on our site, occasionally we do sell out of certain products and sizes. If we are out of stock on an item you have ordered, we'll notify you via email.
YOUR INFO
We won't share your information with ANYONE else.
POSTAGE
Bloody Mary Metal is not responsible for items lost or delayed by couriers or postal companies, where the correct postage has been applied by Bloody Mary Metal. If an item is marked as "delivered" and/or "signed for" by the postal company then Bloody Mary Metal has no further responsibility for the items, and no claim can be raised. If you are unsure of the reliability of your local postal service, and would prefer an alternative postage option, you must email us BEFORE placing your order, so that we can offer you alternatives, at the customer's cost.
COMPETITIONS/ OFFERS
ALL competitions and offers run by BMM are conducted at our discretion. In general, competitions may only be entered once by each candidate.
Special offers  (inc discounts, % off discounts and freebies) are managed at BMM's discretion, and whilst stocks last. Discount codes CANNOT be added after checkout so please don't forget to use your code as we won't be able to refund discount amounts should you forget. Discount codes cannot be used to buy gift vouchers.
Freebies are sent out with jewellery orders ONLY, unless otherwise stated, so where we say "with all orders" take this to mean jewellery orders, unless we specifically state "including paper items, rings sizers, gift vouchers etc".
COPYRIGHT 
Copyright, Design Rights and Intellectual Property on this website are owned by Bloody Mary Metal Ltd. You must gain prior consent from us if you wish to use our imagery for any reason other than Blog posts. You may use our imagery on blogs as long as you credit Bloody Mary Metal and link to our website, in full, and do not make out that the designs are your own, or those of any other company or individual.
ETHICAL TRADING
ETHICAL SOURCING + PRACTICE AT BLOODY MARY METAL LTD
DIAMONDS FROM ETHICALLY SOURCED REGIONS
As one of the UK's leading specialists in certified diamonds, our diamond suppliers go to great lengths to ensure that each of the diamonds it sells has been ethically sourced. They guarantee us that every diamond we buy has not been used to fund wars or insurgencies (stones that are known as conflict, or blood diamonds) and has been scrutinized by their own, highly skilled gemologists.
In 2002 governments around the world implemented the Kimberly Process; an agreement that controls the trade of rough diamonds to ensure they are not used in areas of conflict. These controls ensure that every shipment contains only certified diamonds, is numbered and sealed.
As British Jewellery Association (BJA) members, our diamond suppliers are committed to eliminating the trade in conflict diamonds and have an auditable means by which we can prove that all the diamonds we use comply with the Kimberley Process.
MANUFACTURING + CUTTING OF OTHER GEMSTONES
The cutting and processing of gem materials is now done in controlled environments where modern equipment and employment law is the norm. This has eliminated the problems of exploitation and child labour.
It is a competitive industry where lots of low cost items are now manufactured by automated machines and computers. All stones come from workshops and factories that our suppliers have visited and audited, and we are confident that the people employed are treated well and fairly for the different countries they are based.
THIRD PARTY WORKSHOP/ FACTORY STANDARDS
We do our utmost to ensure that the products we buy come from trusted and ethical suppliers. Our suppliers have long-standing relationships directly with most of the factories and have received assurances that they treat their workers fairly – providing a safe workplace, access to healthcare and a fair wage.  New firms, that our suppliers start to work, are asked that they provide photographic proof of their work sites, if the sites cannot be visited in person. In addition, searches are carried out on all new firms to check if there is a record of work abuse complaints filed against them. If we become aware of a firm embracing any unsavoury practices, we will not work with them.
BMM WORKSHOP STANDARDS
BMM HQ is based on the same site as Chenoweths Trading Co, a leading waste management specialist in Cornwall, regulated by The Environment Agency and WAMITAB. All waste generated from BMM is processed by Chenoweths Trading. Basic recycling is adhered to- cardboard, paper, plastics etc. Any unrecyclable product is processed into a new material that can be further utilised by energy stations.
MOVING TOWARDS A FAIRTRADE FUTURE
Here at BMM, we currently offer officially and completely fairly traded items as part of our Bespoke Service and are always open to discussing the use of FairTrade metals with our customers. At present, using certified FairTrade materials is unfortunately a greater expense. However, we monitor the industry's advancements in this field and hope that in the not too distant future we will be able to make the switch to using completely FairTrade certified metals, as part and parcel of the service we deliver.
PRIVACY + GDPR
 ***If you're not here for the long read, and just want to talk to us about GDPR or removing your data from our records, drop us a line at
[email protected]
or scroll to the bottom of this page for our full contact deets xx
Bloody Mary Metal Ltd's Privacy Policy
This Privacy Policy describes how your personal information is collected, used, and shared when you visit or make a purchase from us, Bloody Mary Metal Ltd ("BMM") here at bloodymarymetal.com (our "Site").
PERSONAL INFORMATION WE COLLECT
When you visit the Site, we automatically collect certain information about your device, including information about your web browser, IP address, time zone, and some of the cookies that are installed on your device. Additionally, as you browse the Site, we collect information about the individual web pages or products that you view, what websites or search terms referred you to the Site, and information about how you interact with the Site. We refer to this automatically-collected information as "Device Information."
We collect Device Information using the following technologies:
    – "Cookies" are data files that are placed on your device or computer and often include an anonymous unique identifier. For more information about cookies, and how to disable cookies, visit http://www.allaboutcookies.org.
    – "Log files" track actions occurring on the Site, and collect data including your IP address, browser type, Internet service provider, referring/exit pages, and date/time stamps.
    – "Web beacons," "tags," and "pixels" are electronic files used to record information about how you browse the Site.
Additionally when you make a purchase or attempt to make a purchase through the Site, we collect certain information from you, including your name, billing address, shipping address, payment information (including credit card numbers and PayPal), email address, and phone number.  We refer to this information as "Order Information."
When we talk about "Personal Information" in this Privacy Policy, we are talking both about Device Information and Order Information.
HOW DO WE USE YOUR PERSONAL INFORMATION?
We use the Order Information that we collect generally to fulfill any orders placed through the Site (including processing your payment information, arranging for shipping, and providing you with invoices and/or order confirmations).  Additionally, we use this Order Information to:

Communicate with you;
Screen our orders for potential risk or fraud; and
When in line with the preferences you have shared with us, provide you with information or advertising relating to BMM's products or services.
We use the Device Information that we collect to help us screen for potential risk and fraud (in particular, your IP address), and more generally to improve and optimize our Site (for example, by generating analytics about how our customers browse and interact with the Site, and to assess the success of our marketing and advertising campaigns).
SHARING YOUR PERSONAL INFORMATION
We ONLY share your Personal Information with the following third parties to help us use your Personal Information, safely and in the best way possibly, as described above. 
>> WordPress – This is how we power our online store. You can read more about WordPress + their own Privacy Policy here:  https://wordpress.org/about/privacy/
>> Google Analytics – This helps us understand how our customers use the Site and allows us to monitor any page malfunctions etc. You can read more about how Google uses your Personal Information here:  https://www.google.com/intl/en/policies/privacy/.  You can also opt-out of Google Analytics here:  https://tools.google.com/dlpage/gaoptout.
Finally, we may also share your Personal Information to comply with applicable laws and regulations, to respond to a subpoena, search warrant or other lawful request for information we receive, or to otherwise protect our rights.
BEHAVIOURAL ADVERTISING
In the future we may use your Personal Information to provide you with targeted advertisements or marketing communications we believe may be of interest to you. These will only be related to BMM, and again, your Information will not be shared, sold or other to any third parties for this. 
For more information about how targeted advertising works, you can visit the Network Advertising Initiative's ("NAI") educational page at http://www.networkadvertising.org/understanding-online-advertising/how-does-it-work.
You can opt out of targeted advertising by:
FACEBOOK – https://www.facebook.com/settings/?tab=ads

GOOGLE – https://www.google.com/settings/ads/anonymous
BING – https://advertise.bingads.microsoft.com/en-us/resources/policies/personalized-ads
Additionally, you can opt out of some of these services by visiting the Digital Advertising Alliance's opt-out portal at:  http://optout.aboutads.info/.
DO NOT TRACK SIGNALS
FYI, we can not alter our Site's data collection and use practices when we see a Do Not Track signal from your browser.
YOUR RIGHTS
If you are a European resident, you have the right to access personal information we hold about you and to ask that your personal information be corrected, updated, or deleted. If you would like to exercise this right, please contact us through the contact information below.
Additionally, if you are a European resident we note that we are processing your information in order to fulfill contracts we might have with you (for example if you make an order through the Site), or otherwise to pursue our legitimate business interests listed above.  Additionally, please note that your information will be transferred outside of Europe, including to Canada and the United States.
DATA RETENTION
When you place an order through the Site, we will maintain your Order Information for our records unless and until you ask us to delete this information.
CHANGES
We may update this privacy policy from time to time in order to reflect, for example, changes to our practices or for other operational, legal or regulatory reasons.
CONTACT US
For more information about our privacy practices, if you have questions, or if you would like to make a complaint, please contact us by e-mail at [email protected] or by mail using the details provided below:
Bloody Mary Metal HQ 
Unit 4 Chenoweth Business Park 
Ruan Highlanes
Truro TR2 5JT 
United Kingdom